Empowering brands
achieve their EPR objectives
Rapidue TechPRO provides comprehensive solutions to
brands via take back & exchange systems; collection
centres; reward points, consumer awareness, recycling,
and enables them to achieve their EPR objectives
Challenges for Producers

Lacking
Traceability

Meeting
Collection Targets

Challenging
Reverse Logistics

Lacking Ecosystem
for Take back
Our Offerings

Tech-enabled EPR target fulfilment
Recykal is India's first cloud-based platform to buy and sell recyclables to accelerate India's circular economy shift. This platform provides on-demand supply for e-waste
---

Take back programs & data intelligence
Power your EPR with our technology solutions like Recykal and UZED and our network of collection centres to optimize effective take back solutions
---

Customized digital reach out
Tailor-made customer awareness programs executed by leveraging our tech platforms Recykal and UZED or via traditional channels like micro-site, toll-free number.
---
Tech-Assisted compliance fulfilment
Our Tech platforms help brands manage the compliance requirements with features like real-time tracking of e-waste and corresponding certificate of destruction produced in liaison with the recycler.
EPR Guidelines
As per Rule 13 of E-Waste Management Rules, 2016, CPCB has the mandate to grant, renew or refuse EPR authorization to producers of EEE
Producers need to disclose a general scheme of collection (EPR plan) and state yearly quantities (volume targets are based on an increasing percentage of quantities sold)
The collection targets for producers have increased from 10% in FY18 to 70% in the stable state (FY 24 onwards)
Producers need to file quarterly returns (Form 6) with CPCB to demonstrate compliance on an ongoing basis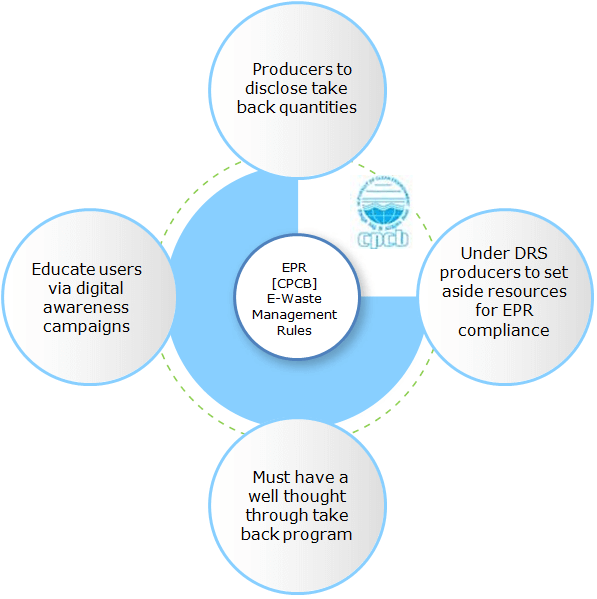 Collection Mechanism
Multiple collection points across India
Our strong logistics channel has reach to every corner
Certified professional recyclers across India to process collected materials
Certificate of destruction from authorized recyclers
Environmental impact certificate to the consumers
Recycler Partners
Partnered with multiple authorized recyclers who have presence across India. They are capable of extracting maximum out of recyclables .The Network of recyclers collection can be used as drop points by the end users any where in the country and can be used as warehouses for Producers
Logistic Partners
Recognizing that reverse logistics can drive real impact to the bottom line is an area of high priority for producers. we built a sustainable and efficient reverse logistics practices collaborating with our logistics partners.
Register
Fill out your contact information and we'll soon be in touch with you